Fabio De March, basso elettrico / contrabbasso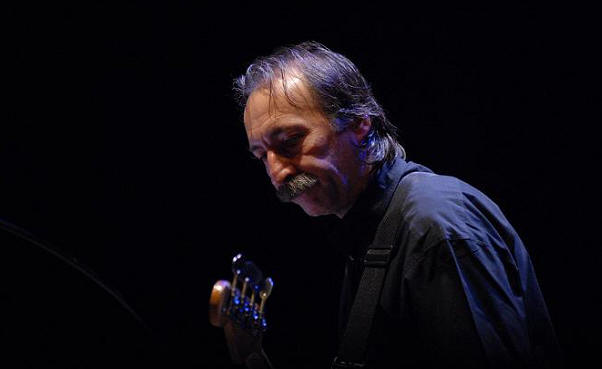 CURRICULUM: ATTIVITÁ, COLLABORAZIONI, DISCOGRAFIA

Fabio De March ha al suo attivo collaborazioni come Jazz "free lance" con artisti e formazioni quali B. Watson, M. Mainieri, S. Grossman, Lars Jansson, R. Heute (ex B.Mintzer Band e Chaka Chan Group ), F. Ambrosettì, D. Landolf (J. Heider), T. Scott, S. Stahel, Shirly B. Foy Group, G.Basso, C. Allifranchini, S.Fanni, C. Fasoli, R.Migliardi, J. Cosumano, M. Rosen, G. Masetti, S.Palumbo, A. Mandarini, F.Rodolfi, R. Olzer, R. Pompilio, C. Allifranchini, S. Rava.
Alcune sue collaborazioni e gruppi di recente formazione: Mallets, Brushes and more Group (with Mike mainieri), Artist's Dream Project (with Lars Jansson),Wally's Big Band di C.Allifranchini ( E.Soana, S.Gibellini,A. Golino, G.Cifarelli, S.Rigon ),Trio Electrico ( R. Pompilio, C.Bernardinello ), The Bridge (A. Barattini, A.Mandarini, D.Moccia.L. Tognoli ), Big Band Parade, Dino Siani Big Band, The Bridge, New Jazz Quartet, Markelian Kapedani Trio, P.Principe Orchestra, G.Tirincanti Quartet, Kaleidos Group , Unity Group (F.Rodolfi),R. Olzer Trio, R.Pompilio Trio, Jazzcom ,Sounds Good Band, Orchestra Italiana Operettistica.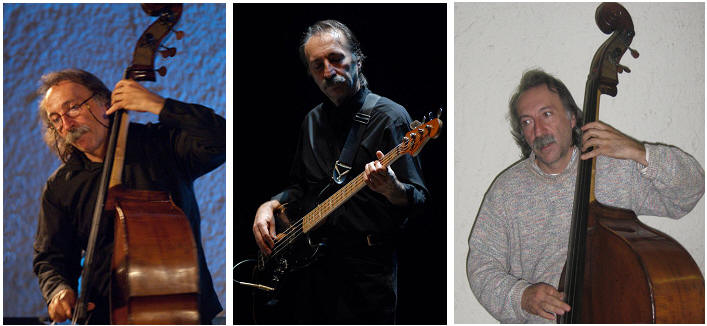 Festivals e rassegne : Coppa del Jazz 1985, Festival Naz. Forlì 1985; Jazz Festival : ( Torino 1988, Siena 1990, Latin Night Festival Varese 1990 opening con Trio Electrico del Michel Camilo Trio, L'Aquila 1991 e 1992, Verona 1991 e 1992, Biella 1992 , Siena 1993, Monteisola 1994 , Torino 1994, Brescia 2000, Siena 2002, Milano Jazz 2002 -2003, Verbania 2002 -2003 – 2004 – 2005 – 2006, Mallets, Brushes and more Tour 2006 -2008 -2010 with M. Mainieri, Artist's Dream Project 2008 -2009with Lars Jansson, Casinò di Monte Carlo – Cabaret ( 2006), Hotel De Paris ( 2008-2009-2010).
Ha partecipato e collaborato alle seguenti produzioni radio-televisive: RAI 2 (Chi tiriamo in ballo), TSI (Jazz Special), RAI –Radio1 (Coppa del Jazz), TV Circuito SPER ( Rock Café ), Antenna 3 (Bingoo), TOP Rete Italia, Reporter, Kiss-Kiss, R8 Network, Delta International, ( Play List ).
Tra le recenti collaborazioni e produzioni - Mus. Legg./Teatro : I. Zanicchi, T. Dallara, Jenny B, Magic Music Circus, N. Midani Show, Omaggio ad Edith Piaf, Da Vienna a Broodway, Spirituals-GospeIs and Worksongs, I Legnanesi
Attualmente collabora o produce in qualità di musicista, autore ed arrangiatore con le seguenti etichette discografìche e gruppi editoriali: COMBO, RICORDI (BMG), SPLAS(H), SENSIBLE, BIANCONERO, ISHTAR, Ed. FADO / RICORDI, Ed. AMERICA, Gr. Ed. MURSIA ( Hickory Dickory - Plin Plon ), MAP, DODICILUNE


Discografia Jazz:
J.T. & G. - Jazz Trio & Guest
Top Ten - Allifranchini Quartetto
Live in St. Vincent - Ciato's Big Band
Panta Rei - A. Barattini Quartet
Trio Electrico - Trio Electrico
Omaggio a Benny Goodman - G. Tirincanti Group Live at Capolinea
Wally - Claudio Allifranchini
Cantabile - F. Rodolfi - Workshop
Chiaroscuro - A. Barattini Quartetto
Live 2000 – Barattini, Tognoli, De March, Bernardinello
Sentiero – A.Ciato Orchestra
In Swing – Cigliano Big Band
Swinging the Sinatra way –Erman Capri & Wally's Big Band
Artist's Dreams – Jansson, Allifranchini, Migliardi, Mandarini, De March, Bernardinello
Romantic – Jansson, Allifranchini, Migliardi, Mandarini, De March, Bernardinello
Fluttering – R. Pompilio Trio ( Pompilio, De March, Stranieri )
RainMakers – Mainieri, Allifranchini, Erra, De March, Bernardinello
Dummy and Human – Jazzcom (Boltro, Abbate, Pala, Di Gregorio, De March,Bernardinello)

Fonte: info artista 24/12/2011
Aggiornamento : 24/12/2011 http://www.concertodautunno.it/cur/demarchf.html