John Sinclair, poeta, scrittore, blues performer.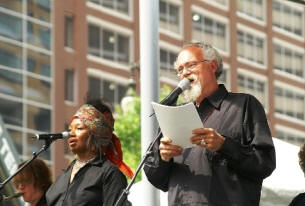 E' stato il leggendario manager della rock band rivoluzionaria MC5, icona del movimento hippie americano per i diritti civili e contro la guerra. Nel 1971 John Lennon ha scritto per lui la canzone 'John Sinclair', in occasione del grande raduno rock organizzato per la sua liberazione dal carcere dopo una condanna a dieci anni per droga.
Negli anni successivi Sinclair ha scritto una nuova leggenda come deejay e programmatore radiofonico per la WWOZ Radio di New Orleans, supportando con passione il potere del blues e del jazz. 'L'amore e la profonda conoscenza di questa musica sono alla base delle sue meravigliose performance di talking blues' (John Strausbaugh, New York Press).
Sinclair vive attualmente ad Amsterdam, continuando a girare gli Stati Uniti e l'Europa con concerti e performance della sua poesia con varie ensemble blues, jazz e rock. Sinclair è uno dei poeti americani 'di strada' del XXI secolo, definito 'L'ultimo poeta beatnik combattente' (Mick Farren, Los Angeles Weekly) e 'Il poeta che lavora duramente contro lo show business' (Ben Edmonds, San Francisco Chronicle).
Come performer e leader della sua band , the Blues Scholars, e in collaborazione con famosi artisti - da Walter 'Wolfman' Washington ad Archie Shepp, da Willie King a Sonny Fortune &Rashied Ali, - John Sinclair ha partecipatoai maggiori eventi e festival musicali degli ultimi 30 anni, dal New Orleans Jazz & Heritage Festival al Detroit International Jazz Festival, dal Grand Opening of Jazz al Lincoln Center alla HempFest di Seattle.
John Sinclair è apparso tra i principali protagonisti di alcuni recenti film documentari: Punk/attitude e Sun Ra: Brother from Another Planet di Don Letts; MC5: A True Testimonial; U.S. vs. John Lennon; 20 TO LIFE: The Life & Times of John Sinclair, un film di Steve Gebhardt, in uscita nel 2007.
Il primo libro di poesie di John Sinclair, This is our music, fu pubblicato da Detroit Artists Workshop Press nel 1965. Il suo ultimo, Va tutto bene/It's all good, da Stampa Alternativa, in italiano/inglese, nel settembre 2006. L'opera in versi di epic blues, Fattening Frogs For Snakes: Delta Sound Suite, fu pubblicata da Surregional Press nel 2002. L'opera in versi epic jazz, Always Know: A Book Of Monk, è in lavorazione.
Sinclair ha inciso 15 album dal debutto discografico del 1995 con la sua band The Blues Scholars: The Delta Sound, il primo volume di Fattening Frogs For Snakes, prodotto da Andre Williams; Full Circle e White Buffalo Prayer, con la partecipazione di Wayne Kramer; It's All Good, con la partecipazione del popolare rapper olandese LangeFrans & Baas B; No Money Down: John Sinclair's Greatest Hits, Volume 1. L'ultimo CD inciso da Sinclair è una performance in duo con il chitarrista Mark Ritsema, dal titolo Criss Cross.
Nel 2004 Sinclair ha cominciato la sua avventura radiofonica in internet con lo show settimanale John Sinclair Radio Show, fondando nel gennaio 2005 RadioFreeAmsterdam.com, pioniera del podcasting. E' stato poet resident al coffeshop The Dolphins e al 420 Café di Amsterdam. E' direttore dei Programmi di Poesi al Cannabis College. Sinclair è militante attivista, dal 1964, del movimento di liberalizzazione della marijuana. Nel 2006 ha ricevuto a Foggia, Italia, il Premio Internazionale 'Matteo Salvatore 2006'.
DISCOGRAFIA
* John Sinclair and His Blues Scholars - Full Moon Night - Total Energy Records ' 1995
* John Sinclair and His Blues Scholars feat. Waine Kramer - Full Circle - Total Energy Records ' 1995
* John Sinclair and His Boston Blues Scholars ' Steady Rollin' Man ' Tripup ' 2000
* John Sinclair ' Underground Issues ' Spyboy ' 2000
* John Sinclair and His Blues Scholars ' White Buffalo Prayer ' Spyboy ' 2000
* John Sinclair and His Blues Scholars ' Peyotemind ' Big Chief Records ' 2002
* John Sinclair and His Blues Scholars ' Fattening Frogs For Snakers ' No Cover Productions ' 2005
* John Sinclair and His Blues Scholars ' No Money Down ' Big Chief Records ' 2005
* John Sinclair and His Blues Scholars feat. Waine Kramer ' It's All Good ' Big Chief Records ' 2005
* John Sinclair & Mark Ritsema ' Criss Cross - 2006

PARTECIPAZIONI
* MC5 - Power Trip - Alive Records 1994/1998
* MC5 ' Teen Age Lust ' Total Energy Records 1996
* MC5 ' American Ruse ' Total Energy Records 2001
* MC5 ' Starship-The MC5 LIVE at the Sturgis Armory June 27, 1968 ' Total Energy Records 1998
* SUN RA & HIS INTERGALACTIC ARKESTRA ' At the Ann Arbor Blues & Jazz Festival in Exile 1974 ' Total Energy Records ' 2001
* AFRISSIPPI ' Fulani Journey ' Knock Down South Records - 2005
INFO www.johnsinclair.us
VIDEO http://www.youtube.com/watch'v=6X6-6nfwUVg
MORE INFO JOHN SINCLAIR and his BLUES SCHOLARS
http://www.suonidalmondo.net/public/artisti/det_artista.asp'ID=42
Fonte: info ufficio stampa
Aggiornamento : 24/03/2007 http://www.concertodautunno.it/cur/sinclairj.html http://www.concertodautunno.it/cur/goodmand.html